NEW SONGS FOR MUSIC THERAPY
Collections of songs for use within Music Therapy sessions and at home by parents / carers ...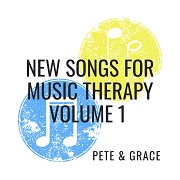 February 1, 2022
New songs for Music Therapy Volume 1, by Pete & Grace
A collection of 8 new songs written to help achieve various goals within Music Therapy sessions, Education settings AND at home by parents / carers.
Purchase downloadable tracks (or listen) on bandcamp.
Stream all 8 songs through Spotify, Apple music, or any other streaming service.
---
PURCHASE LEAD SHEETS AND TIP SHEETS
INDIVIDUAL Purchase 1 license for lead sheets AND tip sheets for all 8 songs through Paypal for $27.50 (inc GST) below.
---
CLINICS OR SCHOOLS
To enquire about the rate for your clinic or school, based on the number of Music Therapists or teachers,
email me (pete @ petemcdonald.com.au - no spaces) for details
.
---
All online purchases are via personalised email delivery, so may take 24-48 hours to be processed and sent.
---
SAMPLES