Music Therapy services from a Registered Music Therapist (AMTA), covered by the Australian Government's NDIS...
Music Club footage...
Nordoff-Robbins Music Therapy Australia employ me 2-ish days per week. They just put together and released footage of one of the groups I work with - Music Club - a community music-making group for teenagers and adults with a disability.
Kind words from an aged-care group...
Well, long time, no-post. Life has been busy with music therapy work, and there just doesn't seem to be enough hours in the day to update things.
I loved this feedback though, and the pictures really capture the work I love doing, so enjoy!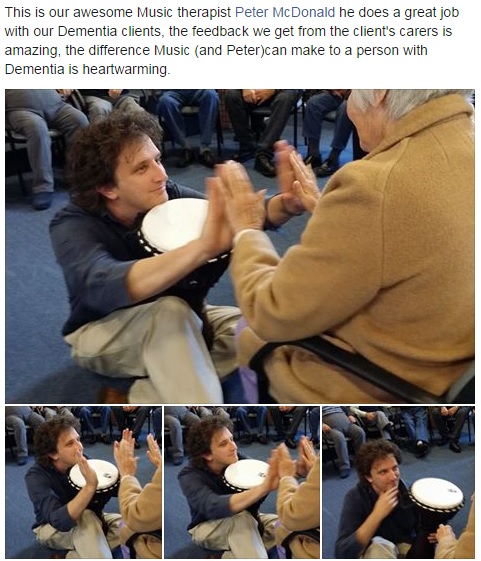 The Blog is out!
It's been a while coming. And won't change the world. But it might just use up 3 minutes of your time, and for that, I'll be thankful. Check it out!
Licensing page updated...
Do you need Royalty Free music for your video (or slide show) project? I have updated my Licensing page with several licensing options.
New LIVE recording available...
Over at my bandcamp page, you can pickup a brand new, warts & all, 6 track, 50 minute epic live recording from the Two album launch. Recorded at the Richmond Club in September 2010 on my portable Zoom H4n, this has just been made available for either a free listen, or, for a short time only, a "Name your price" download.
Do yourself a favour!
Follow me on Facebook...
If you are a facebooker, you can also follow me on facebook. Click on the link below to keep in touch. Feel free also to join my mailing list as facebook won't be around forever! :) I'd hate to lose contact with you all!
Shortlisted APRA composition finalist...
Every 2 years, APRA offer 8 'Professional Development Awards' which, and I quote "change the life of 8 emerging Australian songwriters and composers". Each winner will receive, and again I quote, "a prize package valued at over $25,000".
I have been shortlisted in the Jazz category! Follow the link below for more information. Winners announced sometime before March 14, 2011!
New CD 'Two' Released...
The new CD release is now available! You can purchase it through my website here, from me in person or from iTunes. Just go the CDs page and follow the links.
Don't forget to check out the upcoming launches, Tuesday September 21 @ the Basement and Wed Sep 22 at the Richmond Club, Bensons Lounge. More details in the gig guide.